Uncategorized
Tips to enhance your graphic design portfolio
John Francis, Art Director for Universal Printing, has created some helpful videos of "tips and tricks" for helping you get noticed and stand out from your competition. Before setting up your files, watch some of our helpful tutorial videos like the one shown below.
And remember… you don't have to be a design expert! You're always welcome to enlist the help of our Graphic Design team to help you make a statement, refine your message, and stand out from the rest of the pack. Afterall, if you can't get noticed you can't deliver your messege, right?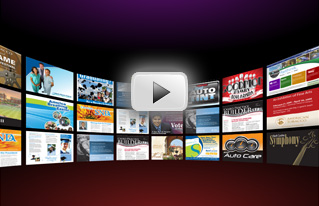 Universal Printing has offered award-winning graphic design services for the past three decades. Click the graphic above to check out our online graphic design portfolio!
More tutorial videos, like the one shown above, will be featured on our YouTube channel in the future. So tell us what you're looking for! Need help setting up a calendar, or samples of the latest tools and effects in Adobe Illustrator, InDesign, or Photoshop? Using CS4, or want to learn more about CS5? Maybe you just want to know the fastest way to get those special text effects. Let us know which tips and tricks you'd like to see; leave your suggestions in the comments field below, or leave a comment or video responce on any of our YouTube tutorial videos.
Tags: Adobe InDesign tips, CS5 tutorials, G7, graphic design, Illustrator Training video, setting up your files, tips and tricks